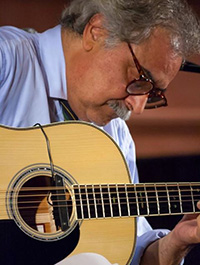 "Mediterranean and... near"
Concert for 12-string acoustic guitar
Marco Poeta, considered by international critics as one of the most interesting, original and versatile acoustic guitarists of recent years, has an interpretive flair that makes it unique in its kind.
The uniqueness of his art is in the 12-string guitar plucked with the Portuguese "UNHAS", which is the ancient technique of Lisbon's fado to play guitar using only the thumb and forefinger.
A difficult and original technique, that only few, in the world, practice outside of the narrow Lusitanian confines, a technique that Marco Poeta uses with his 12-string acoustic guitar, creating a unique sound to the world.
In the language of phrases, thus it emerges, from the guitar's tradition, wide reminiscences: from choro to bossa-nova, from early Neapolitan's music to the fado, from Eastern Europe's gypsy music to the Mediterranean.
All thanks to the wisdom and sensibility refined in 50 years of music played as a perfect self-taught, with prestigious collaborations, from Sergio Endrigo to Eugenio Finardi, from Francesco Di Giacomo to Franco Cerri.
FREE ENTRY