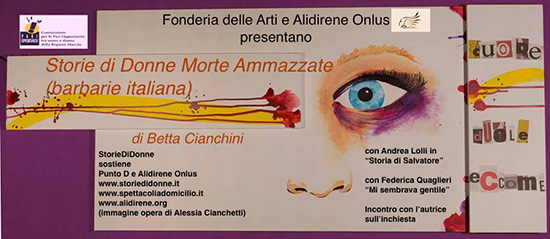 Theatre representation with scripts and adaptation by Betta Cianchini
With Andrea Lolli, Federica Quaglieri
In collaboration with Commissione Regionale per le Pari Opportunitą
Two monologues to talk about violence against women and femicide.
"La storia di Salvatore" (The story of Salvatore): an ironic and funny monologue becomes a noir fiction. An ex wife falls in love with an ex wife. The two wives get to know each other, they discover themselves, they fall in love and become a new couple. They are happy, but the ex husband of Maria doesn't accept it.
"Mi sembrava gentile" (Seemed to me gentle): a man meets the woman of his life. She is thin and encouraging, but she has a "difficult" behaviour. The couple switches from a disillusioned and passionate love to slaps. But she thinks that, in a way, she deserves those slaps, because she is not self-confident.
"Storie di donne morte ammazzate" (Stories of murdered women) is a project of artistic awareness, training and information about violence against women, created and written by Betta Cianchini, who will meet the public during the show. The project is in collaboration with Associazione Punto D and the artists of Spettacoliadomicilio.it.
FREE ENTRY
www.storiedidonne.it
www.alidirene.org